Group Coaching Workshops
and some 'old school' fun and games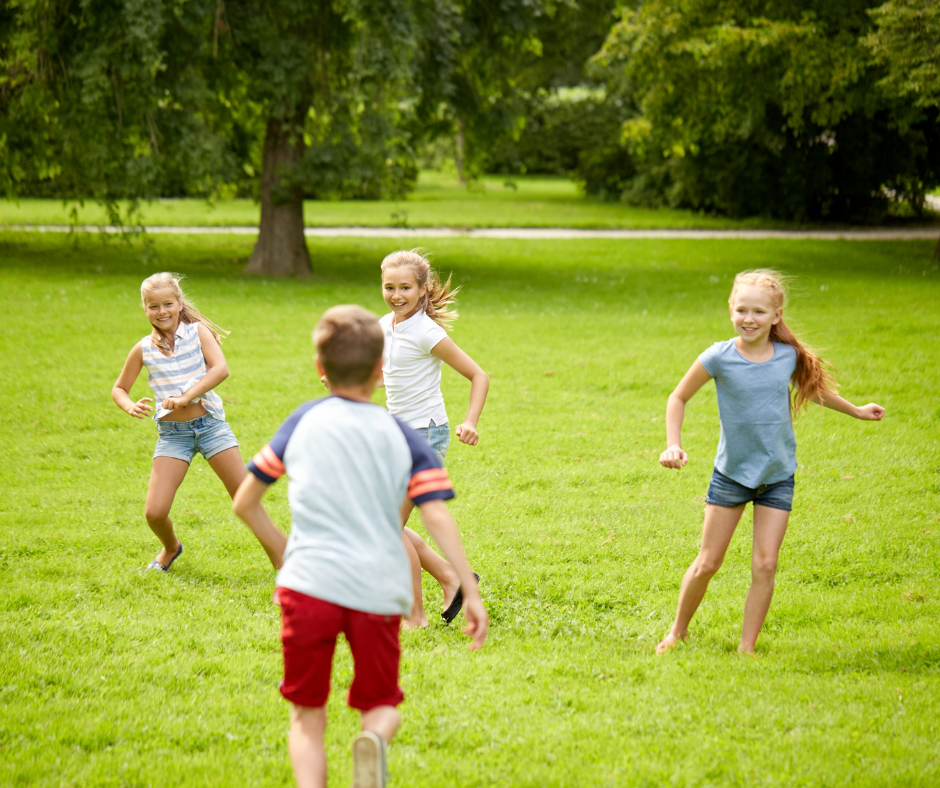 "Reminding kids that taking care of themselves can be simple and a lot of fun"
(Our Group Programs are currently not running but please notify us of your interest by emailing us using the contact form at the bottom of this page and we will notify you when they are up and running again)
The goal of our Group Workshops is to 'get back to basics'. To remind our kids that taking care of and loving yourself is simple and a lot of fun.
This program teaches a mix of healthy mindset, healthy movement, healthy food choices and the importance of laughter.
We teach kids how to think well using stories from our Adventures in Wisdom Program, we highlight the importance of physical movement and remind them it can be fun by playing games like 'cross over red rover', hopscotch and so many more. We remind them that moving and getting some exercise can be fun especially when you are socialising with friends. We also reinforce the importance of eating well by providing a healthy fruit and veg snack along with discussion around 'you are what you eat'.
You will have to try our workshop to see just how much fun your kids have and how well it works for them.
We are passionate about the message of 'getting back to basics' in our lives and having fun doing it.
Your child will leave our workshops with a new sense of self-confidence and self-esteem. They will be reminded to love themselves and take care of themselves mind, body and soul every day. They will take home tools and skills that they can use for life.
Each child also receives a Certification of Completion at the end of the workshop to prove they know how to think well and take care of themselves. We all need a certificate like that! 🙂
What's included in our Group Workshops?
Our workshops run for 1 to 1.5 hours and start with mindset and self-belief coaching using a story from our Adventures in Wisdom Program which will cover certain life skills from the 27 skills listed in the below chart. There will be lots of question and answer time to cement the learnings from the story.
We then move into the importance of healthy eating and physical movement to ensure they learn how to live their best and happiest life. As part of this, the kids are provided with a healthy snack of fruit and veg (carrot sticks, celery, apple, orange and the like) and participate in some fun physical activities that promote health, trust, friendship and team work – simple activities such as shooting hoops, cross over red rover, star jumps, sit ups etc. We then take them through a stretch and relaxation session. If we are lucky and time permits there might even be a craft activity.
Learning important skills for life and having fun doing it
Mindset coaching will give your child the skills they will need to overcome any thoughts or behaviours that may be holding them back. With these skills they will be able to overcome fear, cope with change, set and go for goals in life, overcome peer pressure and so much more
The below chart shows the 27 skills we focus on developing in children.
As your child progresses through our coaching programs, you will notice them developing stronger self-esteem and self-confidence as they learn to know who they are and what they value.
A Priceless Gift
Strong mental health starts in childhood and by participating in our coaching programs and workshops your child is sure to gain valuable life skills and tools that will help them thrive for the rest of their lives.
Use the Contact Form below to email us and we will contact you for a chat about how we can best serve you and your child.
We look forward to hearing from you.
You can also Find Us On Facebook and send us a message through our page.